It looks like a cute little bird: the red-billed weaver. But Kenyan farmers are very concerned about the flocks of birds that eat most of the crop. Live scarecrows should scare away animals. 'This is a catastrophe. These birds eat the grains of rice from the plants, so we won't be able to harvest anything later."
It looks like a cute little bird: the red-billed weaver. But Kenyan farmers are very concerned about the flocks of birds that eat most of the crop. Live scarecrows should scare away animals. 'This is a catastrophe. These birds eat the grains of rice from the plants, so we won't be able to harvest anything later."
This is a strange sight. Men and women who, shouting and waving long sticks, are trying to drive away flocks of red-billed birds from the swampy rice fields on the edge of the vast Lake Victoria. Some even throw pieces of mud at the birds with a stick. From 6 a.m. to 6 p.m., hundreds of these living stuffed animals are hired by rice farmers to frighten the now hated red-billed weavers.
"We have always had these birds here. But this year there are many more than before," says Amos Odeni (48). A Kenyan farmer previously hired three living stuffed animals for his 2.5 ha field, but now even with 24 people he is not able to handle them, in English, red-billed birds quelea keep your distance.
"It's a disaster. These birds are eating the rice grains from the plants, so we won't be able to harvest anything later," says a Kenyan man dressed in a plaid shirt and trousers.
Red-billed weavers, by some estimates the most common bird in the world, are widely distributed in African countries such as Botswana, Ethiopia, Kenya, Sudan, Tanzania, Zimbabwe and South Africa. They usually eat the seeds of natural grasses. Perhaps due to the prolonged drought in East Africa, and with it the lack of natural grasses, as well as due to the increase in arable land, passerines have increasingly settled in agricultural areas in recent years.
Text continues below photo
Harmless and cute

With their bright red beaks and a length of twelve centimeters, the birds seem harmless and almost cute to the layman. The red-billed weaver can eat about 10 grams per day, which seems like a lot. However, the birds live in huge flocks, and the Food and Agriculture Organization of the United Nations (FAO) has calculated that a swarm of two million red-billed weavers can eat 20 tons of grain in one day.
Kenyan farmers are already referring to the birds as "African locusts," referring to the locust infestation that regularly plagues the continent. Birds also breed very quickly, with a bird breeding three times a year and laying an average of three eggs, so a pair can have nine offspring in a year. Many other bird species nest once a year.
Red-billed weavers have eaten more than 120 hectares of farmland in western Kenya, with another 800 hectares under threat, according to the local government in the affected region of Kisumu. That's why they launched a campaign last week in which drones spray the chemical pesticide fenthion over bird breeding and resting areas, a technique also used in other countries, including Zimbabwe and South Africa.
mass mortality

However, in Kenya this venom spraying is met with great resistance. For example, conservationists argue that the widespread use of these types of avicides can lead to environmental pollution and the mass death of other birds and animals. "Killed birds should also be removed as soon as possible," says Paul Gacheru, program manager for conservation organization Nature Kenya. "But because this is not done, the birds of prey can eat the poisoned birds and die."
The ecologist adds that the region is home to many birds of prey, including kites, crows and eagles.
Since 2015, FAO and the United Nations Environment Program (UNDP) have been trying to list fenthion as a toxic substance under the Rotterdam Convention, which would limit the import and export of the substance. African countries have been looking for less harmful methods of control for some time now. For example, scientists argue that red-billed weavers should be monitored using satellite imagery so that one can better determine where they will breed and then be able to effectively control them chemically over a much smaller area.
Half of the rice has already been eaten

Farmers in Kisumu believe the Kenyan government's current approach does not go far enough. "These drones can only cover short distances, and they can't carry enough pesticides with them. This makes it too slow and time is running out," says Odeni. He recalls with nostalgia the 1980s, when the Kenyan government used a small plane to spray pesticides over the area to fight a red-billed weaver infestation.
"We have invested a lot in these paddy fields," says the farmer, who spends more than 257,000 Kenyan shillings (about 1,900 euros) every season plowing, sowing, fertilizing and harvesting his 2.5 hectares of paddy fields. Rice usually earns him about 1 million shillings (7,400 euros).
"However, it is expected that half of our rice has already been eaten," he says. Odeni is now even worried about how he will pay for the education of his five children, one of whom goes to elementary school, two to high school and two to university. "We may not even be able to cover our investment costs from the rice crop."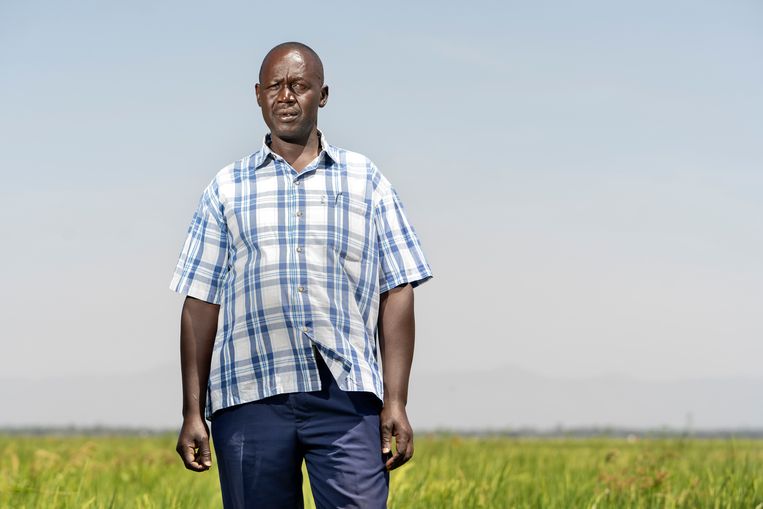 Source: Parool.NL